MESCO's Engineering Flow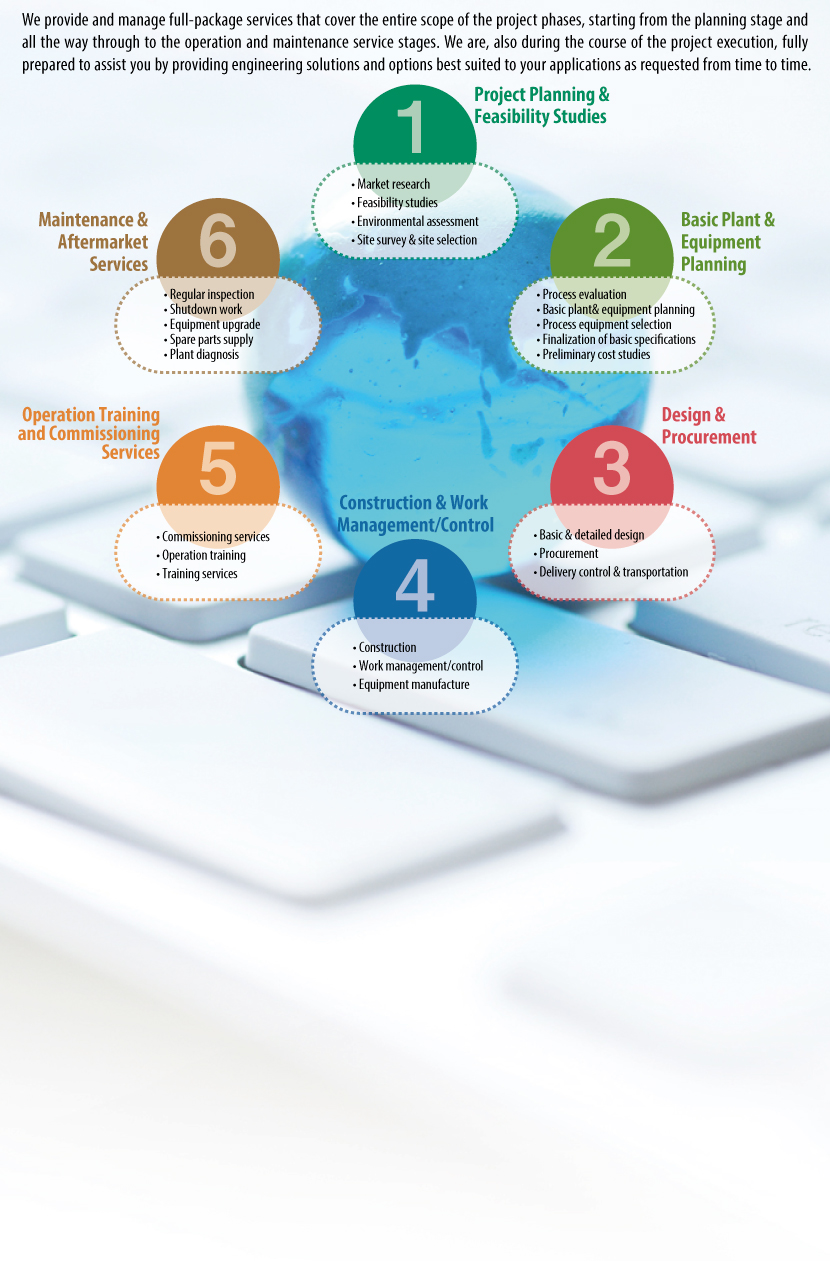 Market research
Feasibility studies
Environmental assessment
Site survey & site selection

At the initial stage of a project, we assist our clients in carrying out feasibility studies based on their needs, site conditions, etc. We also conduct environmental assessment and market research for the goods to be produced.

Process evaluation
Basic plant& equipment planning
Process equipment selection
Finalization of basic specifications
Preliminary cost studies

At the basic plant and equipment planning stage, we conduct analyses, verification tests, and simulations by utilizing our rich resources of technical data to offer our clients the optimum process for the intended purpose. At the equipment selection stage to follow, we pick the type of equipment best suited for the process based on MESCO's abundant experience.

Basic & detailed design
Procurement
Delivery control & transportation

We have capable engineers specialized and fully experienced in various fields for carrying out the design work as optimized under our ISO 9001- based quality control system. Materials and equipment required for the plant construction are procured in an optimum manner with the quality, safety, and cost aspects taken into consideration. We also have, in our product lineup, specialized automatic machinery, etc. designed and manufactured in-house by MESCO.

Construction
Work management/control
Machinery/equipment manufacture

MESCO's sophisticated work management and control system assures delivery of work at the level of quality satisfactory to our customers. It also assures timely accident-free completion of construction work, as managed under the OHSAS 18001 requirements.

Commissioning services
Operation training
Training services

MESCO works out detailed plans to verify and assure that the plant capacity be duly fulfilled. We also dispatch to the site our experienced and skilled operational personnel for training of the operating personnel of our customers.

Regular inspection
Shutdown work
Equipment upgrade
Spare parts supply
Plant diagnosis

Our services will not stop at the point where the plant has been constructed, commissioned and handed over to our customers. We will be available to offer follow-up services of various kinds such as regular equipment inspection, operational diagnosis, and a variety of upgrade options and solutions. We also have our own specialized spare parts supply team to assist our customers with timely and quick supply of components and materials necessary for their plant and equipment maintenance activities.